Wonder-full Wednesdays
Dates:
12th January to 16th February 2022
Every Wednesday
Tickets:
£10 (free to annual members)
Wednesday afternoons are simply wonder-full!
This is the place to be for stacks of fun during term time. You'll see science shows and demos, interactive exhibits and a brand new Planetarium show every time you visit. We're going to fire your imagination with new science workshop themes every single week. Join in each week for the chance to build your science knowledge. You also get to fill up your activity passport with stamps and be presented with your certificates.
Book your tickets now through myonlinebooking.co.uk
Wow workshops
Do you have a curious mind? You'll love getting hands on in our family workshops with a presenter in Bio:Space. Every week a new workshop will bring a different area of STEM (science, technology, engineering and maths) to life.
Workshops that are coming up soon:
12th January - Emulsions: from the kitchen to the ocean. What are they and how do we use them?
19th January - Pee, paper and poo: let's find out how we can use sieves and filters to clean up what goes down our drains and toilets.
26th January - Camouflage: discover how animals use their markings to hide and confuse predators!
2nd February - The bees knees: buzz into February and help us explore the importance of our bee friends.
9th February - Stream morphology: do you know how streams and rivers shape our planet? Come and build a stream table model and find out.
16th February - Bubbles: why do they pop? Let's investigate! Can you make an indestructible bubble?

Workshops last 30 minutes
Out-of-this-world Planetarium shows
Blast off on an afternoon journey through the stars in the Planetarium. Every week there's a new theme and a new adventure that will take you into a different part of the Solar System. You could be flying around the Sun or the Moon or Earth's satellites. You could even be heading far into the universe with comets, constellations and some extra-galactic travel. Are you ready?
Planetarium shows last 20 minutes
Explosive live science shows and demos
Live science is taking place during the week for the first time. The massive Science Live demos are right here on the exhibition floor taking place all around you. Wow! Why not get involved in a Science Theatre show too? Experience the awesome experiments and enjoy the fun when the audience joins in. Don't forget to visit the What's On section to see which show is playing when you come.
Science Theatre shows last 20 minutes
Amazing educational interactive exhibits
Of course a trip to the Science Centre wouldn't be complete without exploring the immersive exhibits. Play the huge 10-metre long guitar. Learn some British Sign Language. Find out more about space flight and have fun with gravity. How much fun can you have in one visit?
Accessibility information for Wonder-full Wednesdays
All our exhibits are interactive. That means you can enjoy them using your senses. Touch them, watch them, hear them. The exhibits are low down so everyone can reach them.
The Science Theatre is accessible so everyone can enjoy all the fun. Sometimes there will be loud noises, but we'll tell you about them before the show starts. If you want to wear ear defenders, you can borrow them from us before the show starts. If you feel nervous in a show, you can stay near the back and leave quickly if you need to.
Planetarium shows are unusual and exciting experiences. All our shows are relaxed and fun with calm presentations. We call them 'chatterbox shows'. If you want to call out, ask questions or swap ideas with your group about what you can see, go right ahead. It's not super dark and you can move around, go out and come back in if you like. If you have a wheelchair, we have spaces for you to sit with seats for your friends and family. The stairs have lights to make them easy to see.
We have blue badge parking available and level access throughout the venue. Find out more about accessibility.
Book your tickets now through myonlinebooking.co.uk
Showtimes
Workshops: 3pm, 4:30pm, 5:15pm and 6pm
Planetarium: 3:45pm, 4:30pm and 5:15pm
Science Theatre: 4pm and 5:30pm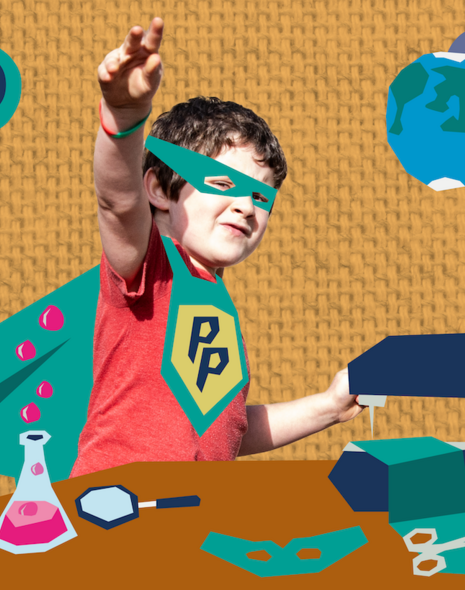 Ready for some spring adventures?
Our 20 years of science wow celebrations continue this March. New free Planet Protectors science show. Two spectacular Planetarium shows. Nature activities. Hands on interactive exhibits. And more!
Find out what spring adventures are waiting