Wonder-full Wednesdays
Dates:
4th May to 25th May 2022
Every Wednesday
Tickets:
£7.50 (free to annual members)
Wednesday afternoons are simply wonder-full!
This is the place to be for stacks of fun during term time. We're going to fire your imagination with new Inspirer-led science workshops every single week. You'll see huge science demos, get hands-on with interactive exhibits and watch a brand new Planetarium show every time you visit. Join in each week for the chance to build your science knowledge. You also get to fill up your activity passport with stamps and be presented with your certificates.
You'll get all this for just £7.50 per person. Wow! Planning to visit every week? Upgrade to an annual membership and you can come every week for free as part of your Curiosity Club membership.
We have three Wonder-full Wednesday start times for you to choose from - 3pm, 3:15pm and 3.30pm. Your workshop and Planetarium times are linked to your arrival time, but you can arrive anytime from 3pm if you want to.
3pm arrival
Workshop time: 3:15pm
Planetarium time: 4:15pm
End time: 5:30pm


3:15pm arrival
Workshop time: 4:45pm
Planetarium time: 3:30pm
End time: 5:30pm


3.30pm arrival
Workshop time: 4pm
Planetarium time: 5pm
End time: 5:30pm

What's included?
Wow workshops
Do you have a curious mind? Your whole family will love getting hands on in our Inspirer-led workshops. Every week a new workshop will bring a different area of STEM (science, technology, engineering and maths) to life.
Workshops that are coming up soon:
25th May: Shadows – Let's bring shadows to life with some incredible shadow art!

15th June: Transparent, translucent or opaque - Let's experiment with light! We'll use different materials to find out how much light can pass through them.

22nd June: Periscopes - Can yoy see around corners? This week we're going to make your own periscopes, which reflect light, and allow us to peer around corners.

29th June: Sorry, there is no Wonder-full Wednesday this week. But don't worry. You can still have some science fun at home. Check out our at home experiments and activities.

6th July: Make Your Own Torch - Build a circuit and create your very own lollypop-stick torch. Wow!

13th July: Static Electricity - We've got some fun tricks up our sleeves that can be done with just static electricity. Who wants to give them a try?

20th July: Motors - Become an engineer! Create your very own small motor that will power a spinning ornament.

Workshops last 20 minutes
Out-of-this-world Planetarium shows
Blast off on an afternoon journey through the stars in the Planetarium. Every week there's a new theme and a new adventure that will take you into a different part of the Solar System. You could be flying around the Sun or the Moon or Earth's satellites. You could even be heading far into the universe with comets, constellations and some extra-galactic travel. Are you ready?
Planetarium shows last 20 minutes
Explosive live science demos
Get set for incredible live science. Watch as science comes to life with massive Science Live demos taking place right on the exhibition floor. Wow!
Amazing educational interactive exhibits
Can you build a skyscraper strong enough to withstand an earthquake? What does it sound like when you strum a giant guitar? How high can you blast a tennis ball? Explore two floors of immersive exhibits to find out.
Accessibility information for Wonder-full Wednesdays
All our exhibits are interactive. That means you can enjoy them using your senses. Touch them, watch them, hear them. The exhibits are low down so everyone can reach them.
Planetarium shows are unusual and exciting experiences. All our shows are relaxed and fun with calm presentations. We call them 'chatterbox shows'. If you want to call out, ask questions or swap ideas with your group about what you can see, go right ahead. It's not super dark and you can move around, go out and come back in if you like.
If you have a wheelchair, we have spaces for you to sit with seats for your friends and family. The stairs have lights to make them easy to see. We have blue badge parking available and level access throughout the venue. Find out more about accessibility.
Showtimes
3pm entry: workshop at 3:15pm and Planetarium show at 4:15pm
3.15pm entry: Planetarium show at 3:30pm and workshop at 4:45pm
3.30pm entry: workshop at 4pm and Planetarium show at 5pm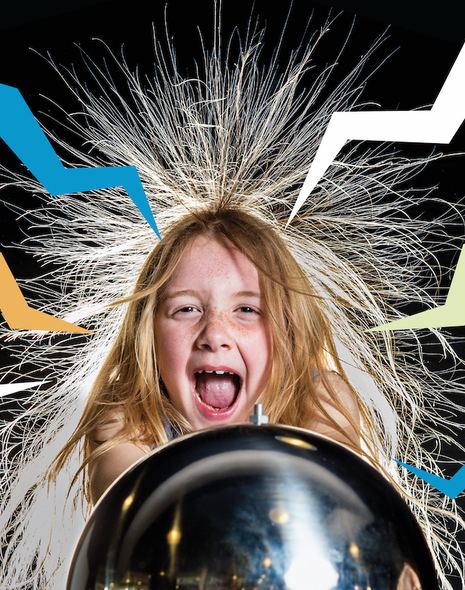 Ready for a family adventure this summer?
Things are heating up this summer. Electrifying free science show, Sparks. Two spectacular Planetarium shows. Outdoor nature activities. Hands on interactive exhibits. And more!
Find out what summer adventures are waiting