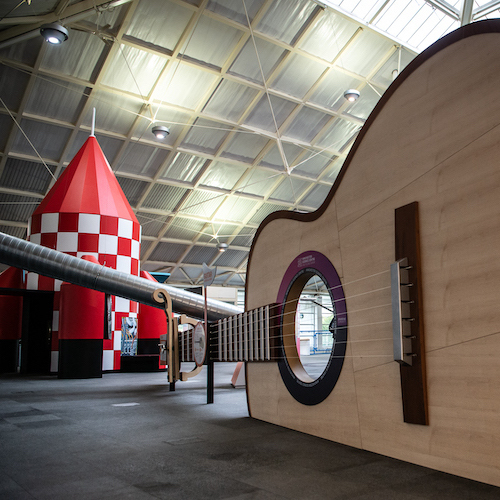 A special camping experience
Bring your school or group to the Science Centre for an amazing sleepover experience. Get sleepy in amongst the awesome exhibits. Snooze in the crash-landed spaceship of Explorer:Space. Set up camp in the out-of-this-world sonic rocket or get cosy inside the giant guitar. You'll never forget it!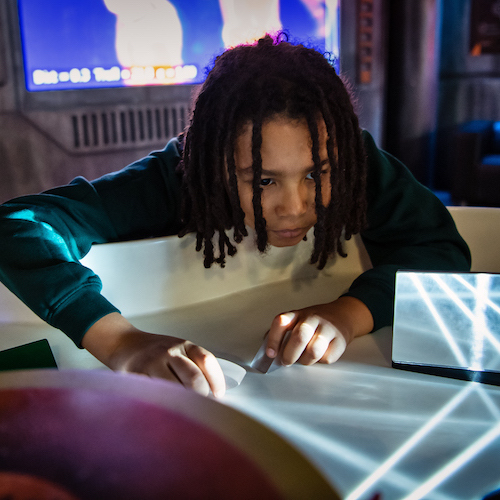 What's included?
A typical sleepover includes all this:
Arrive from 6.30pm onwards
A welcome and safety briefing
Time for your school or group to explore the hands-on exhibits and enjoy hot chocolate and a cookie
Start bedding down about 10pm as the exhibits turn off
Breakfast at 8am with a croissant and a drink
A fulldome Planetarium show at 8.30am (groups should be ready to leave after the show)
Tea and coffee for the adults
Prices
Please note that the minimum group size for a sleepover is 75 guests and the maximum is 150. A recommended adult-to-child ratio of 1:6 is best for the right supervision throughout the visit. All schools and groups need to bring their own sleeping kit.
The Science Centre team will be here for the whole event. This is for monitoring and safety. Sleepover group leaders will be completely responsible for the children at all times.
A deposit of £375 is needed to confirm your booking and to hold a date. The final invoice must be paid no later than 30 days before the event.
Email us to book your sleepover now
Child

£35

minimum 75 children per school or group

Supervising Adult

£9.50
Accessibility info
Accessibility information for sleepovers
Sleepovers have been designed with accessibility in mind. If you'd like to talk to us about your pupils' individual needs before you visit, just get in touch. That way we'll be able to make sure every child will get the most out of their experience.
Get in touch about accessibility