Science Starz
Dates:
17th September to 13th November 2022
Location:
Science Theatre
Tickets:
Included with admission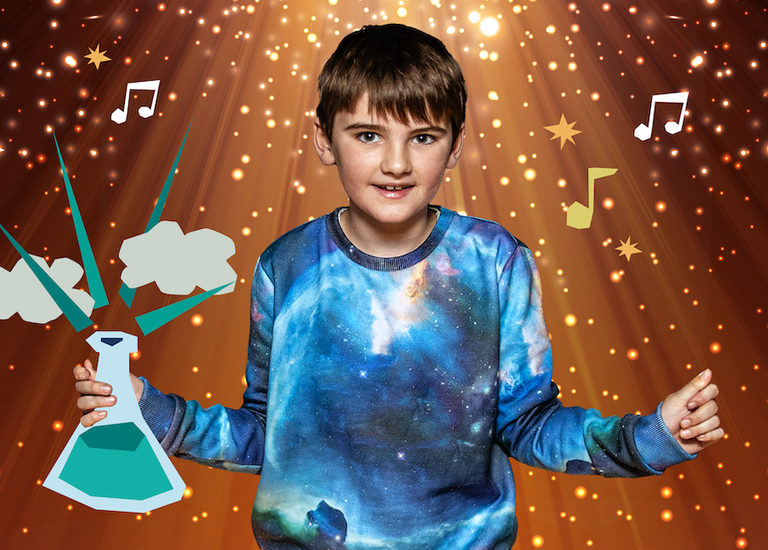 The contestants are ready. The judges are waiting. It's 2002 and we're going back to where it all started. It's Science Starz, a science show like you've never heard before!
In 2022 we're celebrating 20 years of wow moments at the Science Centre. This Autumn, it's your final chance to take a trip down memory lane with us with our final show celebrating some of our best show themes and demos from the past 20 years – all with a retro 2002 twist. Our last stop is sound.
Back in 2002 the music scene was dominated by singing talent show winners. Shows like Pop Idol produced the highest selling singles year on year. Music styles started to converge with contestants joining orchestras and DJ's live on stage. And pitch correction software, Auto-Tune, really took off. But what made this formula work so well for the music and TV executives? Is there any science involved in music creation? Let's find out together in Science Starz.
Grab your exclusive ticket to join the live studio audience of Science Starz. It's big band week and the contestants are using instruments to enhance their performances! Watch as awesome experiments recreate well-known musical sounds. There'll also be fun audience participation. Don't worry, you won't have to sing!

Discover the connections between music and science as together we delve into how instruments make sound. Watch as percussion and wind instruments come to life through exciting science experiments. And be wowed by the ultimate science musical instrument – the mind-blowing, light-bending laser harp. Wow! But which scientific sound machine will help crown the reality show winner? The vote is yours – you decide who wins.
Why not join us on social media? We'll be sharing lots more fun sound and music innovations from the past 20 years. Did you know that the in 2002 you would have most likely still have been buying your music on CD? It wasn't until 2014 that digital overtook physical music sales! And there's also lots of other fun STEM (science, technology, engineering and maths) news from around the world. See you there!
Accessibility information for Science Starz
The Science Theatre is accessible so everyone can enjoy all the fun. Sometimes there will be loud noises, but we'll tell you about them before the show starts. If you want to wear ear defenders, you can borrow them from us before the show starts. If you feel nervous in a show, you can stay near the back and leave quickly if you need to.
Sensitive to loud noises? There's a not-so-noisy show just for you at 3.30pm.
***On Saturday, 24th September, Saturday, 29th October and Sunday, 13th November, a British Sign Language interpreter will be signing during the 11:30am and 2:30pm shows. Talk to our Accessibility team so we can reserve a seat for you near the front.***
Email our accessibility team
Showtimes
10:30am
11:30am
12:30pm
1:30pm
2:30pm
3:30pm (not-so-noisy)
4:30pm (Saturday 22nd to Sunday 30th October)