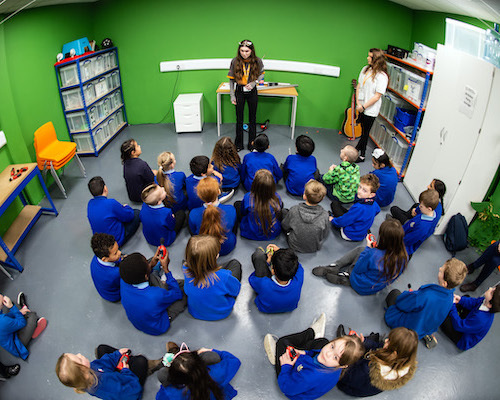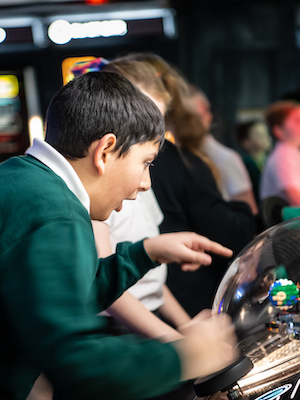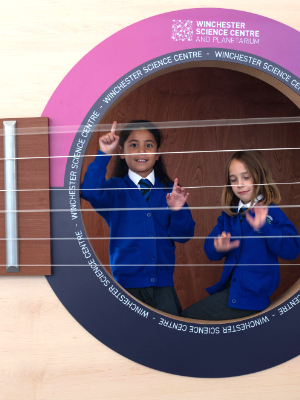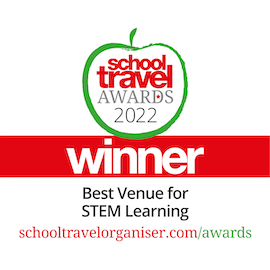 An experience for all ages
The Ultimate STEM School Trip is an all-inclusive experience that lasts the whole day long. It's for children in KS1 (Reception, Year 1 and Year 2), KS2 (Year 3, Year 4, Year 5 and Year 6) and lower KS3 (Year 7, Year 8 and Year 9).
The workshops are linked to the curriculum. All you have to do is choose one out of six great options. Leave the rest to us – it's going to be a fantastic day.
Book your school trip now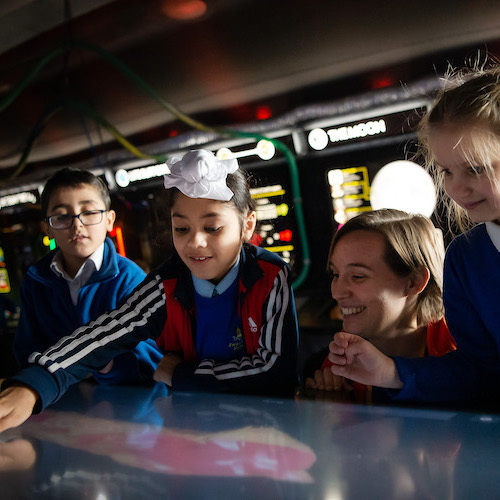 What's included?
There's a 45-minute curriculum-linked Discovery Workshop.
A live Planetarium show to suit your learning group's level.
Lots of time to explore the two floors that are full of interactive exhibits. Check out the exhibit spotlights in Sound, Hearing and Vibration and Explorer:Space for fun ways to interact with our exhibits. 

The only thing you need to do is choose the Discovery Workshop you want to book.
Plan your visit with our sensory schools map
The Discovery Workshops:
Destination Space (KS2)
Let's discover starlight secrets on this epic astronomical adventure. Young astro-engineers will experiment to see how to direct and deflect light in space. Wow!
Discover more
Life (KS2)
Available until July 2022. A mysterious bacteria is killing our fish! It's the job of budding biologists to find a cure. Play a plastic pollution game and discover how plastic is damaging our oceans.
Discover more
Matter (KS1 - KS3)
Let's investigate matter – especially a weird 'matter in the middle'. There's a sticky sensory workshop too. We'll make slime and make it stretch, twist and bounce.
Discover more
Bots (KS2 - KS3)
Who's smarter – a human or a robot? Program your own robot and find out! You'll even learn how to code and do a robot catwalk with spins and a rainbow light display.
Discover more
Rocketships (KS1-KS3)
Our rocket workshop is for budding engineers to learn about forces. Build, test and make your rockets amazing. Let's power them with fuel and fire and launch them too!
Discover more
Sound (KS2)
This is a loud, interactive workshop to explore how we hear sound and process it. Experiment with weird and wonderful gadgets. Reinvent yourself with differently positioned ears!
Discover more
Heart Heroes
Available from September 2022. Let's find out more about our heart. What keeps it healthy? How can we look after it and how does it work. Discover our heart secrets with an exciting live dissection.
Accessibility info
Accessibility information for the Ultimate STEM School Trip
We can make changes to The Ultimate STEM School Trip to suit the needs of your children. We can offer a relaxed Planetarium screening. We'll give you visual supports for SEND and EAL pupils. We'll also send you pre-teaching resources before you visit.
If there are any other ways we can help or if you want to talk about individual needs, just ask our accessibility team. We're all here to help.
Check out our school groups social story PDF for students with SEND needs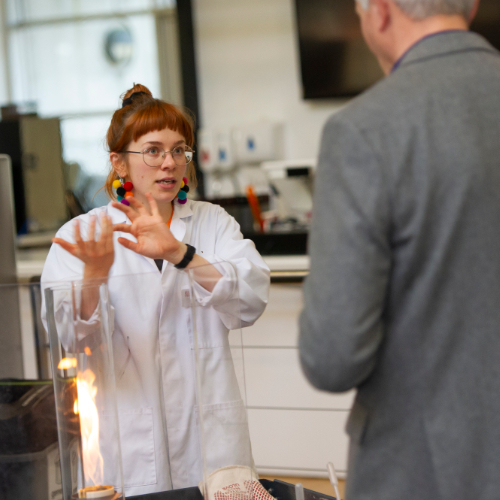 Teacher preview evenings
Want to join us for one of our teacher preview evenings to get prepared for your school visit? You can get to know the site, complete your risk assessments and meet our team.
These sessions are completely free. You'll have a tour and a presentation about what's available for schools. There's even a taster Planetarium show. You can plan your visit with our team and, if you have any questions, just ask.
If you can't make it to a preview evening, it's no problem. You're welcome to join us during the week to take a look around. Just get in touch to make an appointment.
Book a teacher preview event
Prices
We're a charity so we work really hard to break down any barriers to engagement. We're pleased to offer subsidies to the following schools:
State-funded schools (including academies, multi-academy trusts, free schools and University Technology Colleges) - 15% subsidy (12% from September onwards)
Our selected priority schools and all schools who have 14% or more students who receive free school meals - 60% subsidy
Don't forget to check out the different ways to support your travel expenses. The South Downs National Park have some great options available.
Find out if you are a priority school
Student

£11.50

£13 from September 2022 onwards

Student - 15% subsidy

£9.75

£11.44 from September 2022 onwards

Student - 60% subsidy

£4.60

£5.20 from September 2022 onwards

Accompanying adults

Free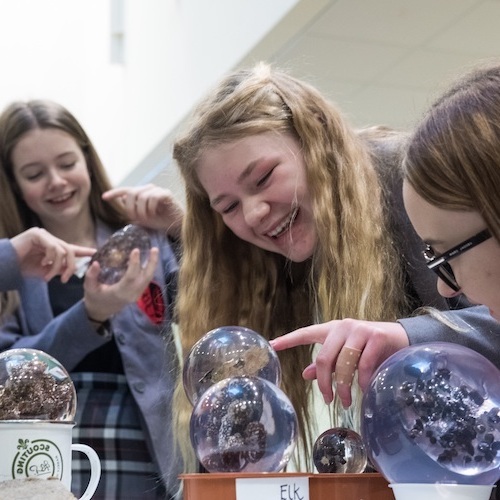 Know before you go
Get ready for an action-packed adventure with our top tips. Writing a risk assessment? We can help with that too.
Plan your visit