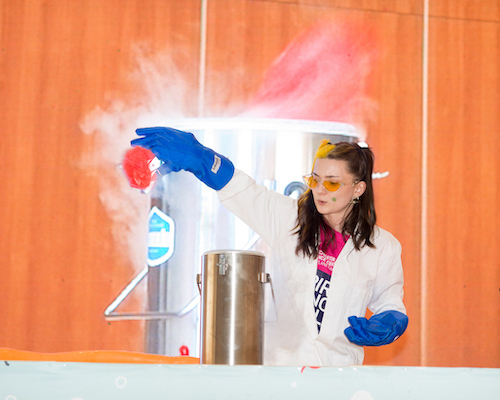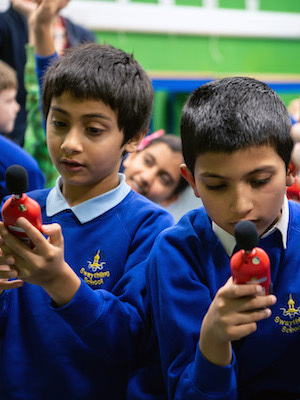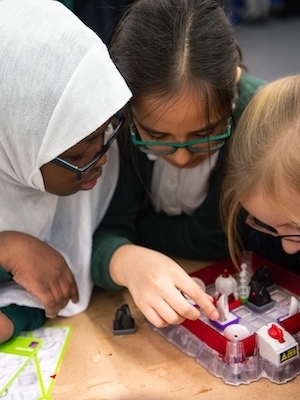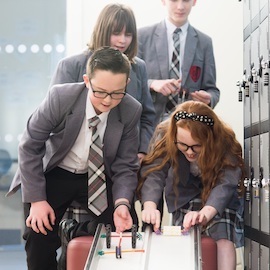 Bring science to life in your school
Are you ready to head off on an adventure to find out how STEM (science, technology, engineering and maths) can save the planet? The Ultimate STEM School Takeout will bring inspiring hands-on workshops, a fun-filled assembly and engaging teacher resources to your school.
We'll tailor the day to suit your students. Before your experience even begins, we'll send you an exciting welcome pack in the post. Excite your students and launch your planet mission with some extra wow. On the day, our Inspirer will bring enthusiasm and fun to your students. During your booking choose one or all of our four curriculum-linked workshops. Each one is delivered as a one-hour session to one class at a time. Add on an explosive assembly filled with huge demos and fascinating facts about the state of our planet. And when it's time to say goodbye, students will be encouraged to make their own planet pledges and teachers will receive digital resources to support continued learning.
The Ultimate STEM School Takeout is perfect for primary school pupils in KS1 (Year 1 and Year 2) and KS2 (Years 3, 4, 5 and 6). You'll learn how to work scientifically, put it into practice and have lots of fun along the way.
Let's get learning!
Speak to our education team about your experience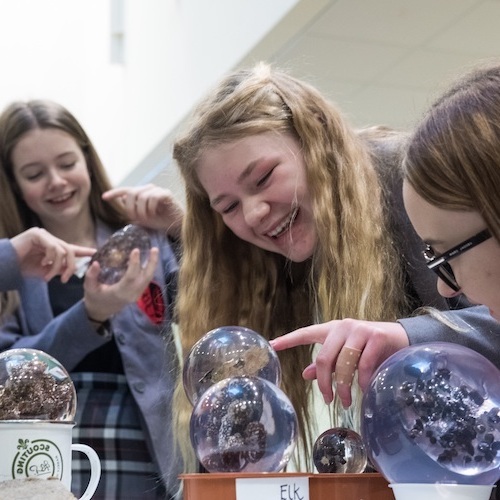 What's included?
A full day bespoke itinerary tailored to your school.

Choose from four interactive one-hour long workshops. 

An optional 30-minute whole or part-school assembly, filled with explosive demos and interactive experiments.

A welcome box delivered ahead of your experience. Open with your class and build your anticipation for the day!
The four workshops:
Materials
Get set for a fun and engaging chemistry workshop. What are conductors and insulators? Let's find out! Students will discover how different materials keep in heat. They'll need to work scientifically to plan a fair test and experiment with different materials.
Rocketships
Three, two, one! Let's launch our own rockets and explore the science of physics. Students will need to design and build their very own rockets. We'll delve into the principles of engineering to create the most aerodynamic design. And what alternative fuels can be used in the future? Let's find out.
Coding
Can we use coding to help humans reduce the impact we have on Earth? In this computing workshop, we'll find out. Students will use microbit coding to create their own sounds and lights. Let's work together to develop our STEM skills for a better future.
Life
Our fish are being mysteriously killed! It's the job of budding biologists to find the cause and come up with a solution. Find out about the effects of pollution on our oceans and play a game to discover how plastic is damaging them. Explore the fragile habitats and food chains of our waterways. What damage are plastics doing to aquatic life?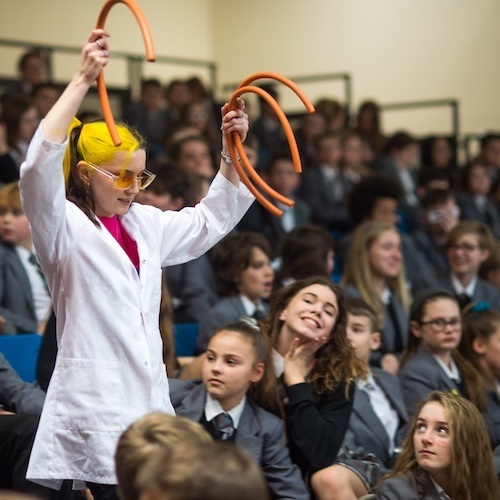 Add some science wow to your school assembly!
Sit back and get ready for some wow moments! Our Inspirer will take your students on a journey of discovery about the state of our planet. There'll be awe-inspiring demos such as the epic whoosh bottle and explosive hydrogen balloon. Future scientists will be left with a lasting memory of how to work scientifically. And the next generation of planet protectors will be inspired to make a difference.
Accessibility info
Accessibility information for the Ultimate STEM School Takeout
The Ultimate STEM School Takeout has been designed with accessibility in mind. If you'd like to talk to us about your pupils' individual needs before our visit, please contact our Accessibility team. That way we can make sure all children can get the most out of the experience.
Get in touch with the accessibility team