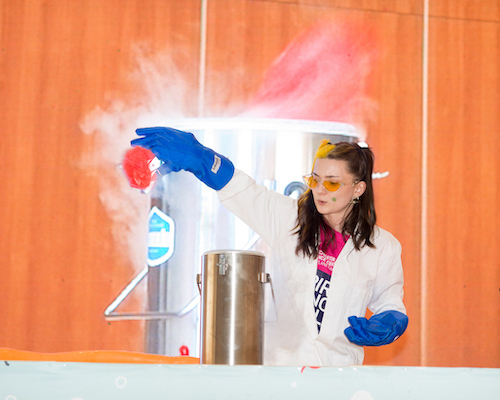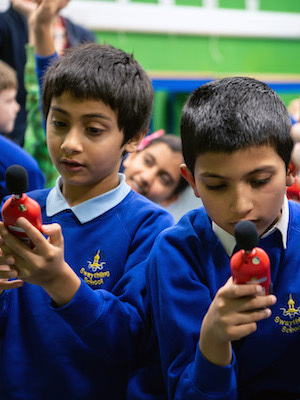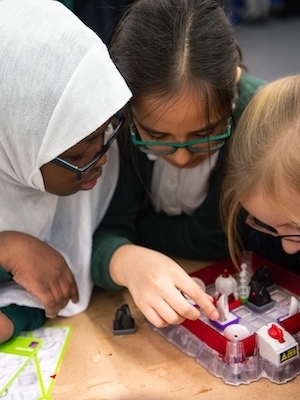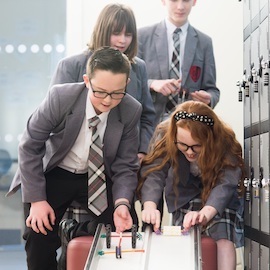 Have fun with the scientific method
The Ultimate STEM School Takeout is especially for primary school pupils in KS1 (Year R, Year 1, Year 2) and KS2 (Year 3, Year 4, Year 5 and Year 6).  You'll learn and practice the principles of the scientific method and have lots of fun along the way.
Ready for inspiring activities and explosive demonstrations? Let's get learning!
Speak to our education team about your experience
Choose a full-day experience for one class
Ready for a journey to the bottom of the ocean for some real investigations? We'll explore how humans can survive the deepest journey. Find out how music helps wellbeing and how to propel a craft to the bottom of the ocean. We'll follow Sally the Sperm Whale into her ocean home.  We'll also be exploring topics like forces, pressure, heat and materials. All the time, the scientific method is here in a fun and exciting way.
Or share three one-hour workshops
Want to share the love and help even more children enjoy a great experience? Think of your booking as if it was three separate one-hour workshops. They'll all take place to an agreed plan, one after the other through the day. The scientific method will be part of every workshop. We'll explore it in a way that everyone remembers because it's so much fun.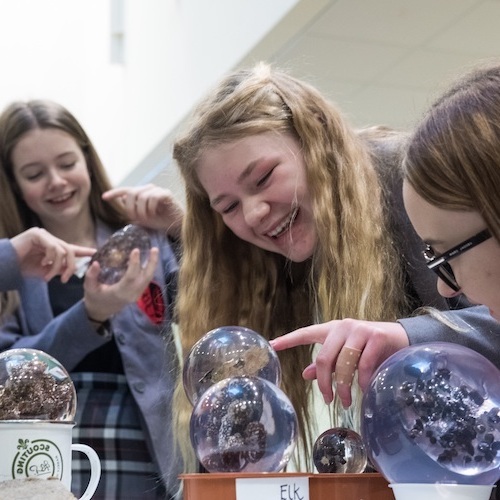 What's included?
Three interactive workshops are delivered as a full-day, ocean-themed experience. It can be for one class or as three separate standalone one-hour workshops for up to three classes.

A 30-minute whole or part-school assembly, filled with explosive demos and interactive experiments.

You'll get pre-visit resources and a post-visit project pack. When you complete the post-visit project there'll be an invitation for up to three students and a teacher to attend a reward day at the Science Centre.

There's a teacher pack to present the scientific method in future classroom sessions too.
The three workshops are:
Ocean Explorers
Ready to become a maritime engineer and explore forces? Use what you learn along with the scientific method. Let's design and build an ocean explorer and choose a winner!
Deep Sea Detectives
Be a computer programmer and explore coding with microbits. Use your skills and the scientific method to investigate noise pollution underwater and how to reduce it.
Underwater Adventurers
It's time for material engineers to explore material properties. Find the best materials to build an underwater vehicle to get to the bottom of the sea and test a prototype.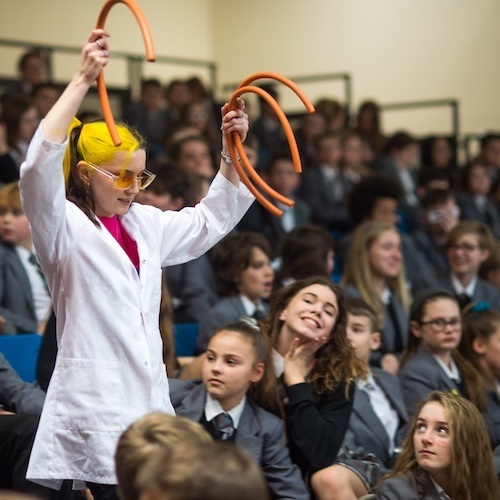 Add some science wow to your school assembly!
Introduce the whole school or a part of your school, to the scientific method. The Inspirer will take you on a journey of discovery through the oceans.  Exciting demonstrations will wow everyone.  You'll all have a lasting memory of the scientific method and a big desire to protect our oceans.
Accessibility info
Accessibility information for the Ultimate STEM School Takeout
The Ultimate STEM School Takeout has been designed with accessibility in mind. If you'd like to talk to us about your pupils' individual needs before our visit, please contact our Accessibility team. That way we can make sure all children can get the most out of the experience.
Get in touch with the accessibility team