All the comfort and space you need
We know that standard accessible toilets don't always meet the needs of all disabled people. That's why we installed a special accessible Changing Places toilet at the Science Centre. There's plenty of space for a wheelchair and two carers/personal assistants. It has a toilet, a changing table and a hoist with a two-point spreader bar for loop slings. If you need to use a sling, please bring your own.
You'll find the Changing Places toilet on the lower level. You can access it with a radar key. If you don't have a radar key, just ask a member of staff – we're all here to help.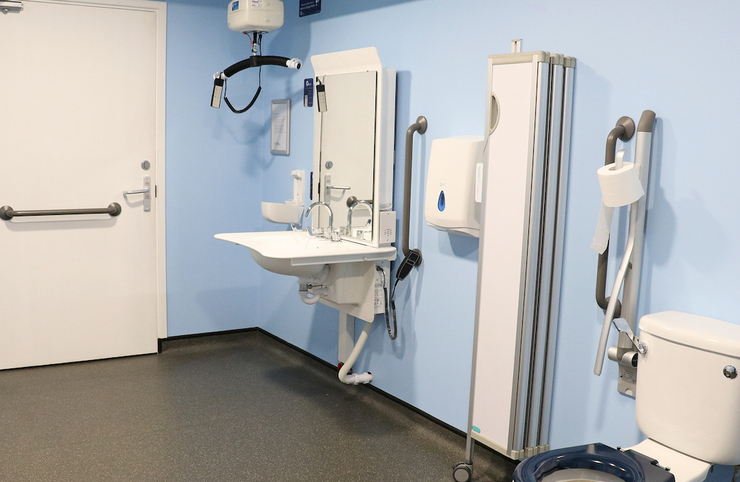 Open 24 hours a day
Unlike in other visitor attractions, the Changing Places toilet at the Science Centre is open 24 hours a day, 7 days a week. Outside opening hours, the toilet can be accessed through an external door at the back of the building, near to the Blue Badge parking bays, by using a radar key and the code that can be found on the Science Centre page of the Changing Places website.
Here's why Changing Places are so helpful
There's a peninsular toilet right in the centre of the space. There's lots of room on both sides of the toilet for wheelchair users. There are also vertical grab rails on the walls and drop-down support rails on each sides.
Changing Places toilets have much more space than a standard accessible toilet. There's a turning space for a wheelchair and room for two carers/personal assistants if needed.
There's an adult-size changing bench that can support up to 200kg. You can adjust the height to help you feel stable and more comfortable. There's also a ceiling track hoist to make it easier to lift a person. The hoist can hold weight up to 200kg.
There's a clear space underneath the sink so if you use a wheelchair you reach it easily.