Are you ready for a brand new dynamic duo?
Our Charity is thrilled to be joining forces with BBC Springwatch presenter Megan McCubbin. This is an exciting new partnership. Megan, a zoologist, conservationist, TV presenter and wildlife photographer, will add another role to her already impresisve list of achievements - Patron of Wonderseekers. Together Megan and our Charity will spark curiosity in STEM (science, technology, engineering and maths) in everyone, with a particular emphasis on nature.
Our mission together
Wonderseekers is best known for running Winchester Science Centre, with its explosive live science experiences, out-of-this-world planetarium and fun interactive exhibits. But did you know we are also a charity on a mission to excite and engage all children with science? If you didn't, you are not alone. But that's about to change.

As Patron, Megan will support our Charity, particularly as we develop our environmental sustainability portfolio. She will help us to raise awareness of our Charity's work within the region and nationally. And she will support us on our mission to help improve life on Earth through STEM education.
On Friday, 1st April 2022, Megan visited the Science Centre to formally take up her new role. She joined a group of school children in a nature-based activity. Megan developed her love of the natural world from a young age. She gained a lot of inspiration from her stepfather, Chris Packham CBE, and the many wildlife encounters they shared.

Megan McCubbin said: "Growing up locally, I used to visit Winchester Science Centre regularly as a child and remember how much fun it was. Children are naturally curious. Wonderseekers can help children harness that curiosity and learn about the world around. To really get to grips with the science behind things, they are going to feel empowered to do something productive and powerful. That really excites me."
Wonderseekers has been sparking children's curiosity in science for over 30 years.  The Charity is now looking ahead with a new focus on environmental sustainability.
Ben Ward, Chief Executive of Wonderseekers, said: "Megan's passion for the environment and ability to share this enthusiasm through engaging science communication makes her a perfect role model for children and families. She has a strong personal connection with our Science Centre and shares the Charity's values. We are delighted to have Megan's valuable support." 
"Science is important and significant to everyone who lives on this planet. We create accessible and inclusive experiences at our Science centre, in schools, communities and online, that build children's confidence and gives them to tool kit to take on world problems. Our Science Centre is situated in the South Downs National Park, and we're keen to explore the opportunity this gives us to connect children with nature on our doorstep."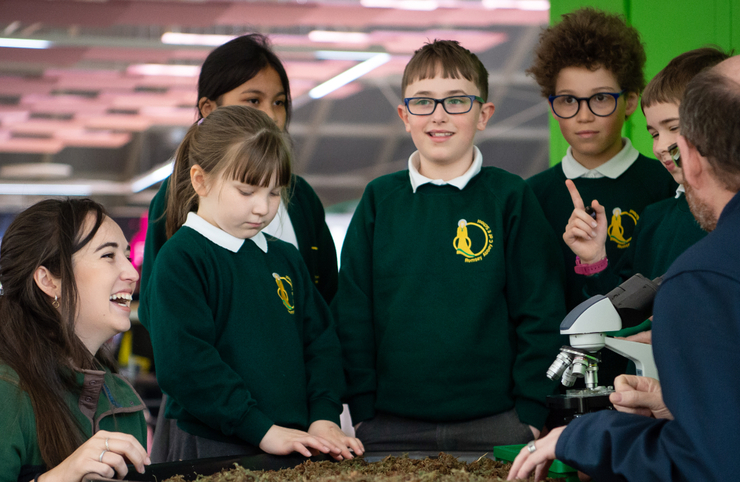 About Megan McCubbin
Growing up in the south, Megan was a frequent visitor to the Science Centre as a child. During the lockdowns of 2020, Megan she became a familiar face online and on TV, co-presenting alongside her stepfather, wildlife expert and BBC presenter, Chris Packham CBE. Isolating at their home in the New Forest, they inspired people from all around the world to get closer to nature through their online birdwatching community, the Self Isolating Bird Club, and later as co-presenters on BBC Springwatch and Autumnwatch.
Find out more at meganmccubbin.com/bio.