Guides and Scouts Badge Night
Dates:
Wednesday 12th October 2022
Other dates available
Tickets:
Child £6.50; Adult £3.50
Come and experience an exclusive after-hours event. You'll even get to take home your very own Curiosity Badge.
This is your chance to explore science, engineering and space. Even better, you'll do it in a fascinating, fun and very hands-on experience. Come along with your groups so everyone can really get involved in educational and fun interactive exhibits. There's the 10-metre long guitar that you can play on. You can learn some British Sign Language. You can even delve right into the mysteries of space flight. Amazing! For even more wow, this special evening will have a science show or a live Planetarium show.
Here's what's included for each child:
A fun activity sheet to help everyone explore the Science Centre. It will challenge them to think like a scientist and an engineer.
A Curiosity Badge to take home and the best experience to help their group get their science, engineering and space badges.
A tasty snack and a drink.

Accessibility information for Badge Nights
All uniformed groups are very welcome to come to a Badge Night. We stagger the session times so every age group gets a fantastic experience. All our exhibits are interactive. That means you can enjoy them using your senses. Touch them, watch them, hear them. The exhibits are low down so everyone can reach them.
If you're treated to a show in the Science Theatre be aware that sometimes there will be loud noises, but we'll tell you about them before the shows start. If you want to wear ear defenders, you can borrow them from us before the show starts. If you feel nervous in a show, you can stay near the back and leave quickly if you need to.
If your event has a Planetarium show, you'll see that they can be unusual and exciting experiences. All our shows are relaxed and fun with calm presentations. We call them 'chatterbox shows'. If you want to call out, ask questions or swap ideas with your group about what you can see, go right ahead. It's not super dark and you can move around, go out and come back in if you like. If you have a wheelchair, we have spaces for you to sit with seats for your friends. The stairs have lights to make them easy to see.
If your group has SEND needs, we can help you create a really magical experience just for them. Just talk to our accessibility team – we're here to help.
Contact our accessibility team
Showtimes
5pm to 6:30pm: Rainbows and Beavers, live science show at 5:45pm
6pm to 8pm: Brownies and Cubs, planetarium show at 6:15pm
7pm to 9pm: Guides and Scouts, live science show at 7:30pm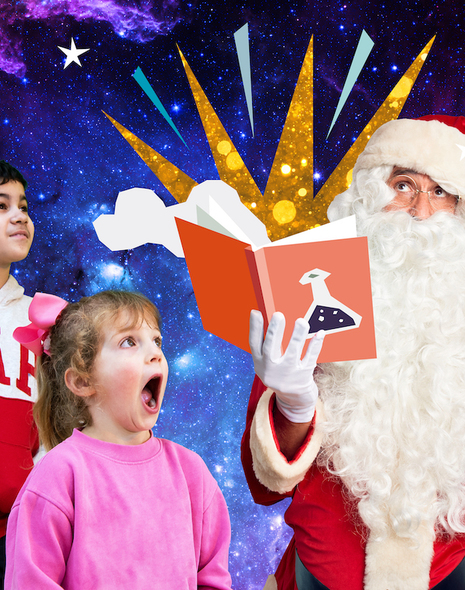 Ready for an unforgettable family adventure this Christmas?
Step into an intergalactic wonderland this festive season. Join Santa in brand new live-action immersive family experience, Cosmic Christmas (limited tickets available). And find out if you've got what it takes to live and work in space with epic Space Station Science activities!
Find out what Christmas adventures are waiting