Home Educator Day - science workshop
Dates:
Monday 11th December 2023
Other dates available
Duration:
Doors open 10am, workshop start times are 10:30am or 1pm, ends 3:30pm
Tickets:
Child £13, Adult £13, Member £3.50, Carer and under 3s free
What's on
Home Educator Day - science workshop
Home educators - we've got your back when it comes to science!
Are you ready to explore science, engineering and space? Get hands-on with fun interactive exhibits. Play the huge 10-metre long guitar. Learn some British Sign Language. Delve into the mysteries of space flight. And so much more!
For even more wow, our Home Educator Day includes a live Planetarium show for everyone to enjoy. Fly through the stars in an unforgettable space adventure! And you get to take part in an action-packed workshop. Get hands-on with science with exciting interactive activities.
Ready to book? When you select 'book event' you will need to choose your workshop start time, 10:30am or 1pm. The event arrival time is 10am no matter what time your workshop starts.
Did you know you can choose to watch a science show instead of doing a workshop? Check out our Home Educator Day - science show.
Your Home Educator Day itinerary includes:
10am - doors open
10.30am - workshop or Planetarium show
11.30am to 1pm - time to explore the two floors of interactive exhibits and enjoy some lunch
1pm - workshop or Planetarium show
2pm - more time to explore the two floors of interactive exhibits
3:30pm - home time!

Know before you go
Everyone who attends needs a ticket, including accompanying adults and siblings.
Children under three years old are free. But if you want them to participate in the workshop or have their own seat in the Planetarium, you'll need to purchase a child ticket.
All children attending the event must be supervised and accompanied by their grown-ups at all times.

Accessibility information
All our exhibits are interactive. That means you can enjoy them using your senses. Touch them, watch them, hear them. The exhibits are low down so everyone can reach them.
Planetarium shows can be unusual and exciting experiences. All our shows are relaxed and fun with calm presentations. If you want to call out, ask questions or swap ideas about what you can see, go right ahead. It's not super dark and you can move around, go out and come back in if you like. If you have a wheelchair, we have spaces for you to sit with seats for your friends. The stairs have lights to make them easy to see.
If you or your child has SEND needs, we can help create a really magical experience. Just talk to our accessibility team – we're here to help.
Contact our accessibility team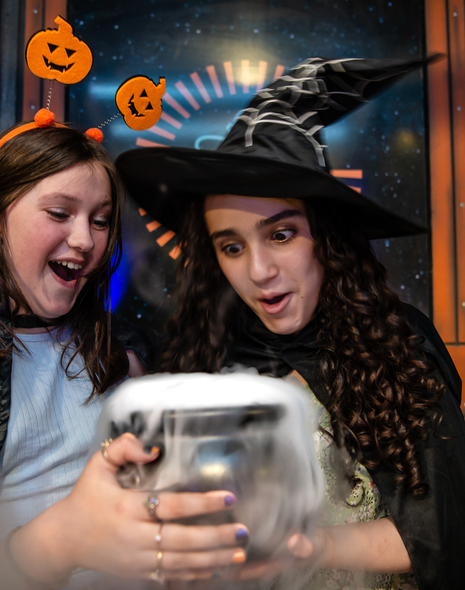 Awesome autumn!
Who's up for some fiendishly fun science? At Science Spooktacular we are! It's trick or treat season and we're pulling out all the stops to make this one full of science treats! As well as all the usual Science Centre fun, there'll be even more on offer to excite all ages – all included with admission.
Find out what's going on