Galaxies
Dates:
7th October to 26th November 2023
Weekends and school holidays
Tickets:
£4 plus general admission
Get set for the biggest journey you'll ever make! Join us in the Planetarium and zoom beyond our planet, solar system and galaxy.
Galaxies is a presenter-led live show ideal for those looking for a deeper understanding of a particular topic. It's great for older children and adults.*
Let's begin our journey at home on Earth. Sit back and relax as you admire the galaxies we can see from our planet. Don't get too comfortable though as you'll soon be whisked into space to discover more about our galaxy, the Milky Way. What other galaxies are out there? What are they called? And what does the future hold for our own galaxy? Let's find out together.
*Please be aware that all of our Planetarium shows can be viewed by every age group and are not quiet shows.
Accessibility information for Galaxies
The Planetarium is accessible so everyone can have a special experience here. Planetarium shows are unusual and exciting experiences. All our shows are relaxed and fun with calm presentations. We call them 'chatterbox shows'. If you want to call out, ask questions or swap ideas with your group about what you can see, go right ahead.
It's not super dark and you can move around, go out and come back in if you like. If you have a wheelchair, we have spaces for you to sit with seats for your family and friends. The stairs have lights to make them easy to see.
We've got super 3D printed models and NASA's official tactile books. You can use them when you watch the show. We also have an induction loop. Sensitive to loud noises? You can borrow ear defenders from us before the show starts.
Email our accessibility team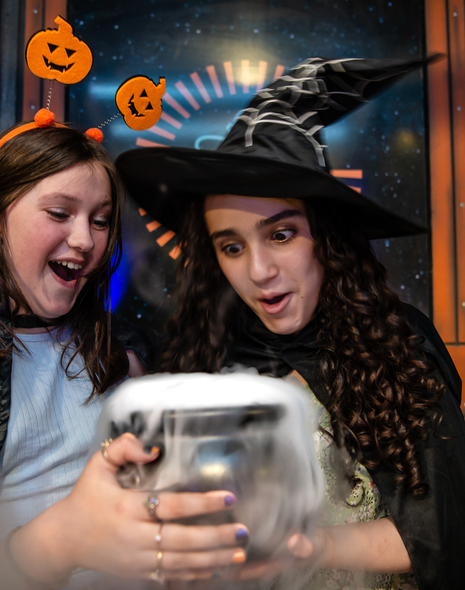 Awesome autumn!
Who's up for some fiendishly fun science? At Science Spooktacular we are! It's trick or treat season and we're pulling out all the stops to make this one full of science treats! As well as all the usual Science Centre fun, there'll be even more on offer to excite all ages – all included with admission.
Find out what's going on