How we're dealing with the pandemic
Science is playing a big role when it comes to the pandemic. It's helping us change the way we do things at the Science Centre to keep everyone safe. We use scientific reports to teach us the best ways to run the Centre.
Before you visit, watch our video to see how we're dealing with things here. When you have a moment, read what we're doing to make sure you have an amazing and safe day out.
Masks, social distancing and cleaning
We all need to do our bit to keep everyone safe. In line with current guidance, we'll be wearing masks. You'll need to wear yours in our indoor areas as well, unless you are eating in one of our cafés. This doesn't apply to children under 11 years old, disabled people or those who have a medical condition that stops you wearing a mask.
We'll ask you to think about social distancing when you visit. It's important that we all keep each other safe.
We still have extra hand sanitising stations. We're also doing lots of extra cleaning all around the Centre too.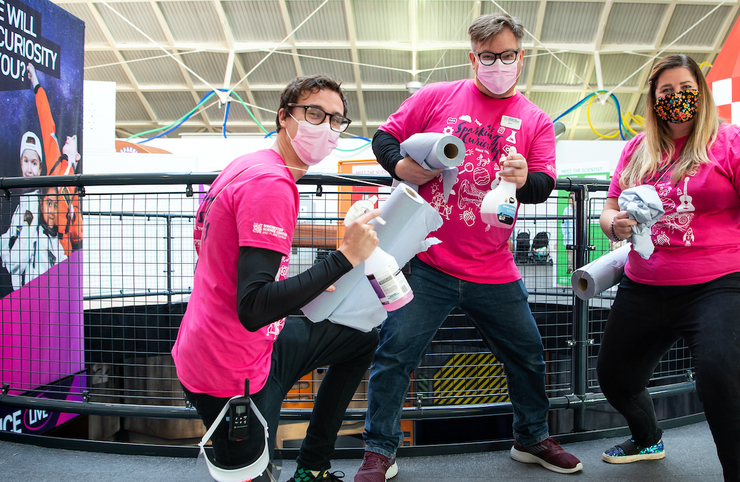 Book with confidence
Don't worry if you have to change your plans to visit at the last minute because of Covid-19. If you don't feel very well or if you need to self-isolate it's no problem. We can change your booking with our Book with Confidence promise.
You don't need to call us. Just email us with your booking reference and we'll swap your booking with a credit note. As soon as you're ready to book another visit, just email us again and we'll sort it. All we'll need is your booking reference, the date and time you'd like to visit and any shows you want to reserve.
Anything you need to know, we're here to help.
Good to Go
When we reopened the Science Centre in October 2020, we did everything the government asked us to. We followed all the guidelines that visitor attractions had to follow too. That's how we met Covid-Secure certification. We were even awarded Visit Britain's Good to Go mark – great news!
We're still following official guidelines today. We have prepared a plan for any risk we might face. We also have an excellent process to keep every area spotlessly clean and help us all social distance.